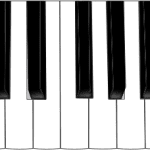 MEA Piano Studio participates in the annual Spring Festival for music students in Northern Virginia. Students of all ages and levels participate. They perform a variety of different festival pieces in a non-competitive setting and receive feedback from other piano instructors. This festival is a fun opportunity for students to work on practicing, goals, and commitment as they strive to earn special awards. It takes students at least three years to accumulate enough points to earn their first award.
Festivals are not competitions. Students are judged based solely on their own performance and their own music. (Even when someone play the same piece!) The ratings that each student receives is based on how well a particular student follows the composer's directions. This includes many things like dynamics (remembering to play soft at the end instead of loud) or rhythm (being careful to hold all half notes for two beats). This festival only has five ratings: Superior (5 points), Excellent (4 points), Satisfactory (3 points), Fair (2 points), and Needs Improvement (1 point). Participating students also receive a certificate for each year of participation. Students also receive trophies once enough points (15, 30, 45, 60, 75, and 90 points) have been accumulated.
Students in 4th grade or higher must volunteer 1-2 hours as a page.
Basic Information
Location
The Arlington Piano Festival is held at Columbia Baptist Church. (The church is technically located in Falls Church, VA). Students are assigned a specific performance time and must stay for the entire hour to listen to other students. Since this is not a recital, only parents and siblings are allowed to attend.
Dates
Normally the first or second week of March. Please see the studio calendar for more up-to-date information.
Fees
Students and parents should estimate about $20 per event. This fee does not include required music or accompanist fees. In recent years, the festival fee has been $18 per student.
Repertoire
Students must choose their piano solo pieces from the options below. Students are required to choose one piece from each list. Please refer to you instructor for the appropriate level. All pieces may be purchased online from Sheet Music Plus or locally from any Music & Arts store. (Parents and Students – please let me know if you would like direct links to the pieces at Sheet Music Plus. If I get a lot of requests I will add that in the future to make it easier for everyone to purchase their songs!).
List A
Toccata – Rorem